Perhaps I live under a rock. I sometimes wonder if I'm the last person to discover great books, toys, ideas, artists, and so on. Some time ago, I rediscovered a great song and spent the season enjoying it. It's a lovely, beautiful song called
Winter Snow
, simple and gorgeous with touching lyrics. I grew fonder with each listen, so much so that I asked my husband for the artist's CD for Christmas.
He listened, God bless him.
Perhaps you live under a rock too. If so, let me share a few lyrics with you from the CD my husband gave me for Christmas called
The House You're Building
(which is not a Christmas album and does not contain "Winter Snow") because you don't want to miss this.
You live in a million places
Your fingerprints can be seen on a million faces
There is a trace of You in every hallelujah
Every song that I sing
For love of You
I'm a sky on fire
Because of You I come alive
And it's Your sacred heart within me beating
Your voice within me singing out
For love of You
You are the highway I travel
Cause I watched You carve streets of gold from the sand and gravel
I gave you brokenness
You gave me innocence
And now, this road leads to glory
For Love of You
And if that doesn't win you over, how about these words:
As the dew falls on the blade
You have touched all this fragile frame
And as a mother knows her baby's face
You know me
As the Summer air within my chest
I have breathed You deep down into my breast
And as You know the hairs upon my head
Every thought and every word I've said
Savior, You have known me as I am
Healer, You have known me as I was
As I will be
In the morning, in the evening
You have known me.
Known
If you haven't already, get to know Audrey Assad. If you know her, share.
You're welcome.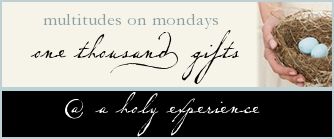 Counting old and new gifts and those new-to-me #551- 575:
a husband who spoils me
new songs
Winter Snow
words
sledding with my family
silly boys
winter lambs



snowmen and the children who build them



a white Christmas
our annual Christmas Eve traditions, plus new memories
shared communion and "Silent Night" by candlelight in a circle in the sanctuary
winter snow falling, quiet, soft and slow as we left the church
Christmas morning and day
and the next day
and the next (so much family!)
Cella's chocolate covered cherries
in my stocking (yum!)
the blessing of being able to give well
the excitement on my sugars' faces because of what they're
giving
their belief in the One who gives best
her request to sing "Jesus Loves Me"
her whisper in church days later, "Jesus loves me."
JOY!