He made me a mom. I remember the doctor's words when she called us into her office to let us know that, no, I was not experiencing the flu. What I had was going to last much longer. I remember her grin and my shock at the unexpected news and the silence in the car as my husband and I processed the idea of a change in the timing our dreams.
The best change ever.
I remember the fierce love I felt so early on, so surprising to me, when I experienced some possible complications and feared the loss of that tiny promise of life. I remember begging God to let everything be okay. I remember the fear and the anticipation of considering being a parent for the first time. I remember the first kicks . . . the first of everything.
And then he arrived. I had never experienced such joy. When we brought him home, we took turns holding him, examining him, memorizing him, admiring him . . . awed that this perfect baby boy was ours to keep. Ours alone.
He taught me the ropes of newborn care -- the shocking realization of what true dependency means. The all-hours feedings, the "right-now" attitude. The realization that the labor of his birth was nothing compared to the new job I alone had now. This thing called motherhood. I didn't think I could do it.
And then he smiled. Four weeks into being on call to a demanding tyrant, he offered a gift, and I was forever hooked. I didn't realize just how many gifts he had offered me before that moment until much later . . . . how many lessons he was teaching me and how many moments I didn't know would never return. And I wish now my memory was better or that I could go back and relive just a day now and again.
And now The Thinker's eleven. Just like that.
He's led me through so many different stages of life, surprising me, frustrating me, challenging me, and captivating me at every turn. Now, he's this compassionate, competitive, intelligent, handsome, and funny boy-turning-man. And I
long to hold him tightly as he is
, for I'm so much more aware of how quickly time passes, how soon he will no longer be eleven but eighteen and then thirty.
Yet even as I long to hold on, every day I pray that he turns less ours and more His and that he will let his Heavenly Father guide him wherever that will take him.
And wherever that is, he will always, always,
carry my heart
.
Happy Birthday to my first gift born.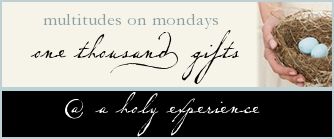 And I count one more time my many gifts #576 - 589:
birthdays to count
grace in parenting
the timing of my first gift
the lessons God teaches through our children
agape love
the privilege of watching children grow
The Thinker has a spiritual birthday too
another reason to gather with family in winter
conversation with my sisters and my brother
Baby Girl's "Happy Birthday to you"
The Stinker's excitement in choosing a gift (and "can't I give both?")
comfort in the hope that each season of life will have its joys . . .
and that moving forward means
moving closer
each and every hug from all my Gifts