Christmas is a time for reflection.
But Mary treasured up all these things and pondered them in her heart.
Luke 2:19
As I reflect on the cherished ornaments and keepsakes that have been given to me
and made . .
as I pull out these treasures that remain hidden in a box for much of the year,
I take the time to remember.
These gifts stir in my heart memories of days past and point to people that are special to me. My husband who knows me. My grandmother, now waiting on the other side. My friends in other parts of the world. My mom who
knits love
and her grandmother before her who did the same. My children and their preschool days.
While the gifts are beautiful to me, it is the people that are the true treasures.
And when I reflect on the gifts, I'm invariably led back to the Giver who became Gift, and I ponder the Person who is Christmas.
I treasure His words and ponder them in my heart.
For to us a child is born, to us a son is given.
Isaiah 9:6
Every good and perfect gift is from above, coming down from the Father of the heavenly lights.
James 1:17
Thanks be go God for his indescribable gift!
2 Corinthians 9:15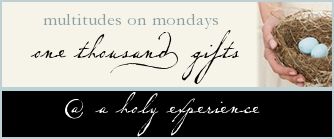 Pondering and giving thanks for these treasures, these God-whispers, #511 - 529:
memories hanging on the tree
my grandma and grandpas, whom I still miss and will until we meet again
a happy childhood
my husband's thoughtful gifts
Christmas baking
the smell of cinnamon and sugar cookies
warm slippers
thick, fuzzy blankets
the silky feel of Baby Girl's hair as I read to her
sitting between The Thinker and The Stinker during
The Voyage of the Dawn Treader
knowing Aslan by
his many names here
a church Christmas program
my Christmas angel
and wisemen
the sweetness of an old story told in a fresh way
Christmas greetings from friends and strangers
tucking my children in each night
the angels who watch over them (Matthew 18:10)
a God who gives constant attention to each of us